AIMFILL INTERNATIONAL IN-HOUSE MAGAZINE
LAKSHYA
 LAKSHYA; is not only the AIM, is also a guide for achieving the aims. Lakshya; aims to enlighten the students, who are preparing for their higher studies about the competitive world ahead and to guide to and fulfill their AlMs. Education is not only meant for achieving marks and certificates, it forms the basis of future and career. Choosing the right career ensures a better future. Aimfill International institute of job oriented training aims in creating and molding dynamic minds to face the world, the changing scenarios, complex situations and ensure the utilization of the available opportunities of the competitive world. The social responsibility is recalled for strengthening the roots of the upcoming generation of India. The efforts are also accounted to change the title of developing country to a developed country. As a job oriented training college Aimfill is trying to utilize the opportunities formulated by the global economy and unprecedented economic and technology changes of the world and the aviation industry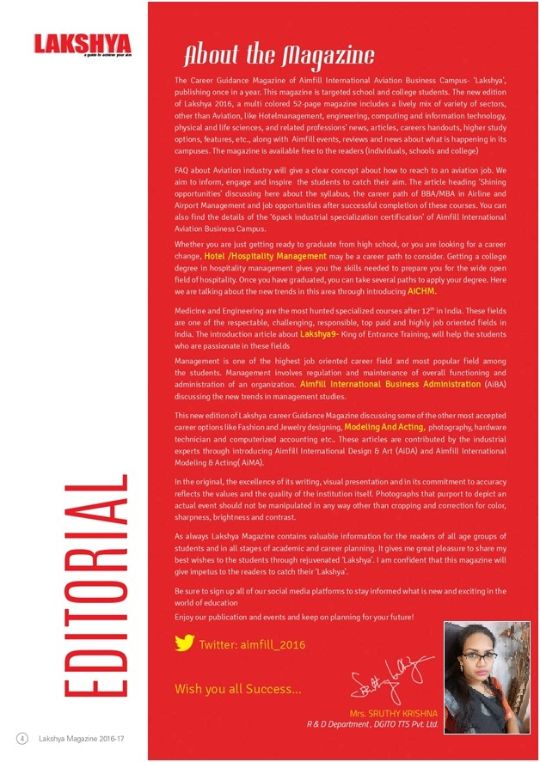 THE EDITORial 

The Career Guidance Magazine of Aimfill International Aviation Business Campus- 'Lakshya', publishing once in a year. This magazine is targeted school and college students. The new edition of Lakshya, a multi-colored 52-page magazine includes a lively mix of a variety of sectors, other than Aviation, like Hotelmanagement, engineering, computing and information technology, physical and life sciences, and related professions' news, articles, careers handouts, higher study options, features, etc., along with Aimfill events, reviews and news about what is happening in its campuses. The magazine is available free to the readers (individuals, schools, and college) 
FAQ about the Aviation industry will give a clear concept about how to reach an aviation job. We aim to inform, engage, and inspire the students to catch their aim. The article heading 'Shining opportunities' discussing here the syllabus, the career path of BBA/MBA in Airline and Airport Management, and job opportunities after successful completion of these courses. You can also find the details of the '6pack industrial specialization certification' of the Aimfill International Aviation Business Campus. 

In the original, the excellence of its writing, visual presentation, and in its commitment to accuracy reflects the values and the quality of the institution itself. Photographs that purport to depict an actual event should not be manipulated in any way other than cropping and correction for color, sharpness, brightness, and contrast.
 As always Lakshya Magazine contains valuable information for the readers of all age groups of students and in all stages of academic and career planning. It gives me great pleasure to share my best wishes to the students through rejuvenated 'Lakshya'. I am confident that this magazine will give impetus to the readers to catch their 'Lakshya'. 
Be sure to sign up all of our social media platforms to stay informed about what is new and exciting in the world of education Enjoy our publication and events and keep on planning for your future!
I wish you all success… 

Mrs. Sruthy Krishna | R & D Department | DGITO TTS Pvt. Ltd.